Perfect!
After the short Rastatt show last week, Konstanz was my second chance to see the Hooters live during their 2005 summer show. Located directly at the lake Bodensee, only a few meters away from the border between Switzerland and Germany, the festival ground with a beer garden and a big tent provided a very nice atmosphere.
Swiss band "The Moondog Show" started the evening with some nice and relaxed songs and got very positive response by the audience.

Afterwards the Hooters crew took their time to set up everything for the guys and shortly after 9 pm the band opened the concert with "Time" and "Day by Day" as in Rastatt. But what a difference compared to Rastatt: the sound was perfect from the beginning on and "Time" could show it's potential as a great song to start the show: 100% Hooters and 100% rocking - no wonder that the audience was singing and dancing from the beginning. What followed was a perfect mixture between new songs (and there were a lot of them) and Hooters "classics": Fran's "That's the way I will remember for example and John on lead vocal "Digging Deeer Down" were followed by well known songs like "Deliver me" leading into "Private Emotion / Heimliche Sehnsucht" leading back to "Deliver Me". Some well known songs got new intros, like for example the intro to "Graveyard Waltz" which is then used as intro for "500 miles". During "Johnny B." a snippet of "Don't knock it till you tried" it was used and you could see that the band enjoyed the show as much as the audience.

"Live to see the day" was one of my (many) favourites: a Hooters song sounding like the Byrds and Tom Petty have joined the Hooters :-)The Don Henley cover "Boys of summer" was also great, but I'm still undecided, which version I like more: the original version or the cover version. Other highlights: Eric and Rob performing "Morning Buzz", a song which should be seen live! "25 hours" a day was one of my favourites of the "classic" songs together with "All you zombies", which finished the show.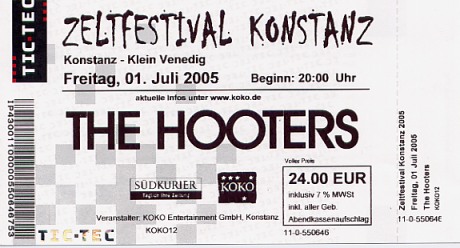 © 07/2005 by Hans-Georg Krumm
URL: http://www.hgkrumm.de/hooters_010705.html