The Hooters for the first time in Luswigsburg!

The Hooters show in Luwigsburg was the last show of the European leg of the mini tour this fall. The "Scala", which is like the "Capitol" in Mannheim an old movie theatre, is a very nice venue with lots of atmoshere. As usual for the "Time stand still" tour the Hooters opened with the 2 first songs of the album: "I'm alive " and "Time stand still", followed this time by "Southferry Road" and "fighting on the same side. Like these 4 songs the whole show was a perfect mix of 6 songs from the new album and "classic" Hooters songs, some of them with new intros. "And we danced" for example started with a very powerfull intro which was driven by Fran's bass and John's guitar, before Rob started the familiar melodica intro. And "25 hours a day" turned into "Jigs'n'eels" which turned into "Satellite". And also songs from the new album have been changed slighly: at the end of the Don Henley cover "Boys of summer" David and Fran joined Eric, Rob and John adding drums and bass to the song.

After "Johnyy B", which was the first encore, Eric presented "songs being written for other artists, who can actually sing": "One of us" in this nice accustic version with one verse and the chorus in German and of course "Time after time". After that, Eric wanted to finish the show, but Rob made him stay: the final track of the album "Free again" was the final song of this show and everybody was smiling, when Eric forgot the words of one of the verses. Anyway, "Free again" is the perfect song , and "see you next summer" is the perfect satemet to finish a show.

After 30 shows in Europe in 2007 the band returns to Philadelphia for 2 more shows. Looking forward to seeing the guys next summer.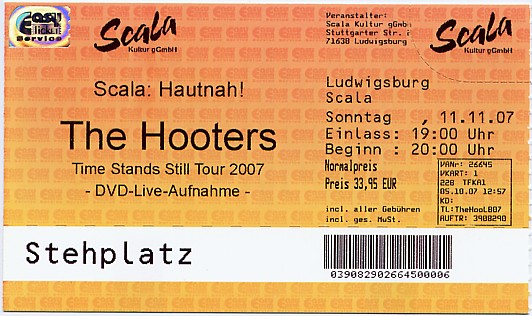 Some links:
Pictures of the show
The brandnew Hooters forum: http://www.forum.thehooters.de
Hooters Homepage: www.thehooters.net
The official Fan Page: www.TheHooters.de
© 11/2007 by Hans-Georg Krumm
URL: http://www.hgkrumm.de/hooters_2007_11_11_e.html