Oh yeah, the Mosbach Nights!

What a nice venue! The stage located near a part of an old castle in the middle of a small amphitheatre, a warm summer night: a perfect place for a Hooters show. After the support -"The Urge" from England playing sort of britisch-southern-rock (if such a thing exists)- warmed up the crowd, the Hooters started their show. Like in Karlsruhe they started with "I'm alive" and "Time stand still" from the new album followed by the up-tempo version of "Time after Time". Compared to the Karlsruhe show the setlist has been slightly modified: "Johnny B" has been moved to the second half of the show, directly after "25 hours a day" and I think "Fighting on the same side" has not been played in Karlsruhe.

The band had a good start, the audience was great and even some technical problems with Eric's pedals were not really stopping the show. Rob made a small joke about it :"our new album is called 'Time stand still' but right now the show stands still" and while Eric and a technichan were sorting out the problems backstage, Rob entertained the crowd with a reggae rythmn on his keyboard and some funny lyrics about "Mosbach nights". John, Fran and Dave joined him and so this jam was great fun for everybody (maybe except for Eric and his technician)

Finally the technicals problems were sorted out and the show continued with "Until you dare" and "Where the wind may blow". The Hooters played a lot songs from the new album before they focused on the hits (25 hours, Johhny B, All you zombies, Karla with a K Satellite and finally "And we danced" in one row) at the end of the show.

The encores were the great "Catch of the Day", which the Hooters dedicated to one member of the crew, a fantastic acoustic version of "One of use" with one verse in German and finally "Free Again" which truly is a great live song.

It's always good to see several shows of one tour since the band modifies bits and pieces of the songs from show to show. My favorites this evening were "Graveyard Waltz/ 500 miles" (as always), "Satellite", "Catch of the day", "one of us" and "Free Again". Unfortunately "Morning Buzz" was missing as well as "Ordinary Lives" which has been foreeen -according to the setlist- as a possible additional encore.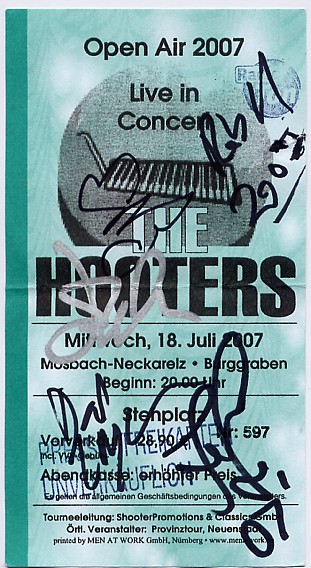 Some links:
Pictures of the show
Hooters Homepage: www.thehooters.net
The official Fan Page: www.TheHooters.de
© 07/2007 by Hans-Georg Krumm
URL: http://www.hgkrumm.de/hooters_2007_07_18_e.html